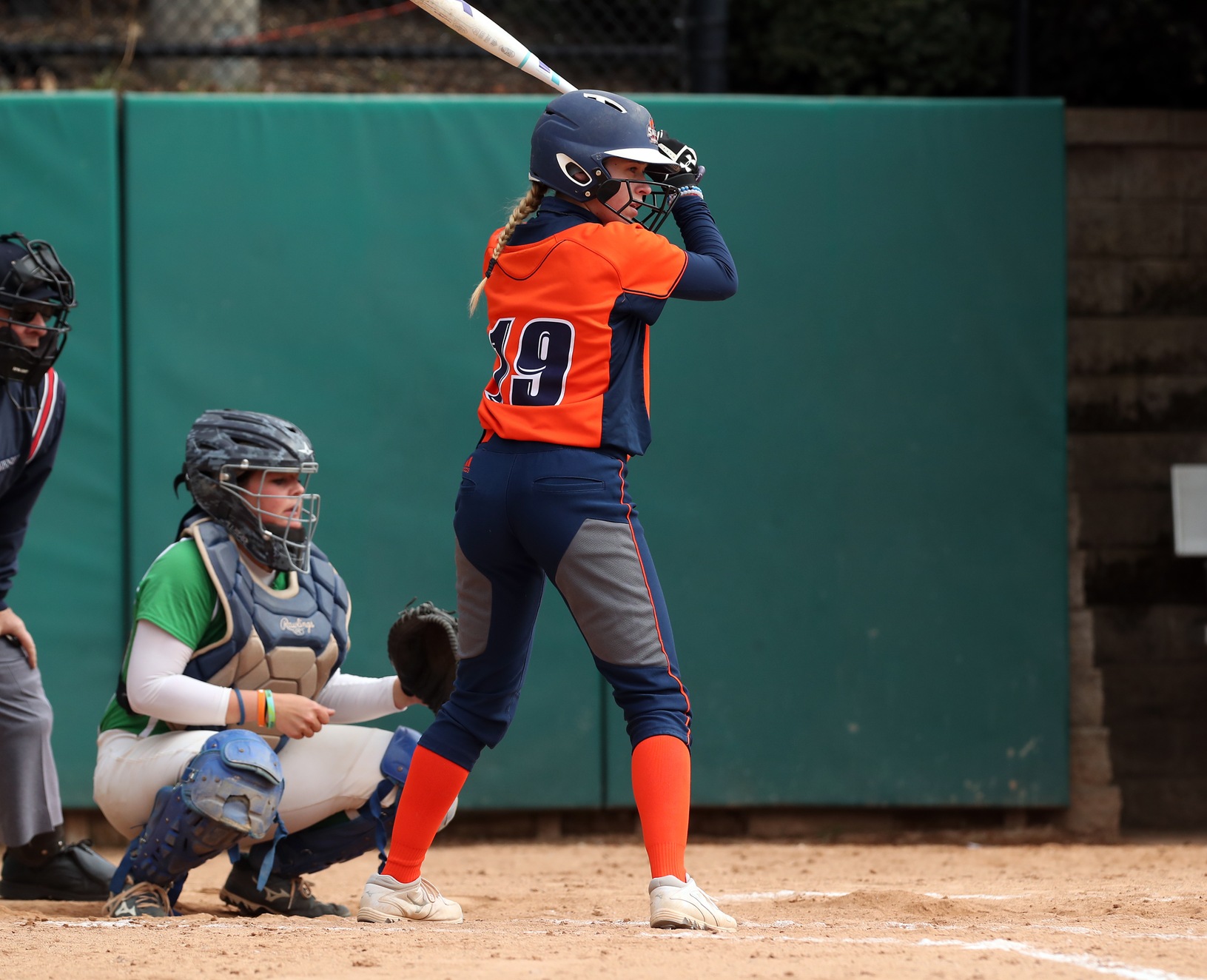 Milton, Mass. -- Salem State and Curry each claimed a win in ther scheduled doubleheader on Monday afternoon. The Vikings, behind a 4-for-4, four RBI performance from Dominique Del Vecchio (Stoneham, Mass.) defeated the Colonels 12-9 in game one. Curry rebounded as starting pitcher Taylor Newcomb (Millville, Mass.) went the distance in a 10-4 game two victory. Salem State is now 7-5 on the season while Curry goes to 6-6.
Salem State jumped out to a 4-0 third inning lead. The Vikings loaded the bases and three straight hits, including a two-run single by Gracie Hogan (Northbridge, Mass.) gave the visitors an early lead. Trailing 6-2 in the fifth, the Colonels exploded for seven runs on just three hits, with the big blow a two-run home run by Alexandra Chase (Biddeford, Maine ), which allowed Curry to exit the inning with a 9-6 lead. However, Salem State countered with six runs in the top of the sixth to go back on top, 12-9. Chloe Manousos (Lowell, Mass.) plated the first run with a double and was followed by RBI singles by Del Vecchio , Kasey Nolan (Braintree, Mass.) and Hogan. Sydney Chiasson (Hudson, Mass.) ripped a two-run single, scoring the fifth and sixth runs of the inning for the Vikings.
Starter Brooke Westmoreland (Saugus, Mass.) pitched a complete game, allowing three earned runs on seven hits with five walks and five strikeouts to earn the win. Allison May (West Bridgewater, Mass.), who relieved starter Carrigan Costello (Wolcott, Conn.) took the loss after giving up six runs —three earned— on five hits with a walk in an inning of work.
Nolan finished 3-for-3 at the plate with two RBI while Hogan had two hits and three RBI for the Vikings.
Taylor Newcomb (Millville, Mass.) went the distance in game two, allowing just three earned runs on eight hits with four walks and a pair of strikeouts to improve to 3-0.
Manousos led off the game with a home run, but Curry added a run to tie the game in the bottom of the inning. Mikayla Porcaro (Amesbury, Mass.) put Salem State back on top with a base hit in the third, but Jordan Perzan (Burlington, Conn.) launched a two-run home run in the bottom of the third and as the Colonels scored three times to take a 4-2 lead.
Starter Grace Hogan lasted three innings allowing four runs on three hits as Salem State used four pitchers in the game.The Vikings tied the game with two runs in the fifth on RBI singles by Porcaro and Del Vecchio , but Perzan hit her second two-run home run of the game as Curry regained the lead 7-4 in the bottom of the fifth. The Colonels tacked on three more runs in the sixth to pull away for the 10-4 win.