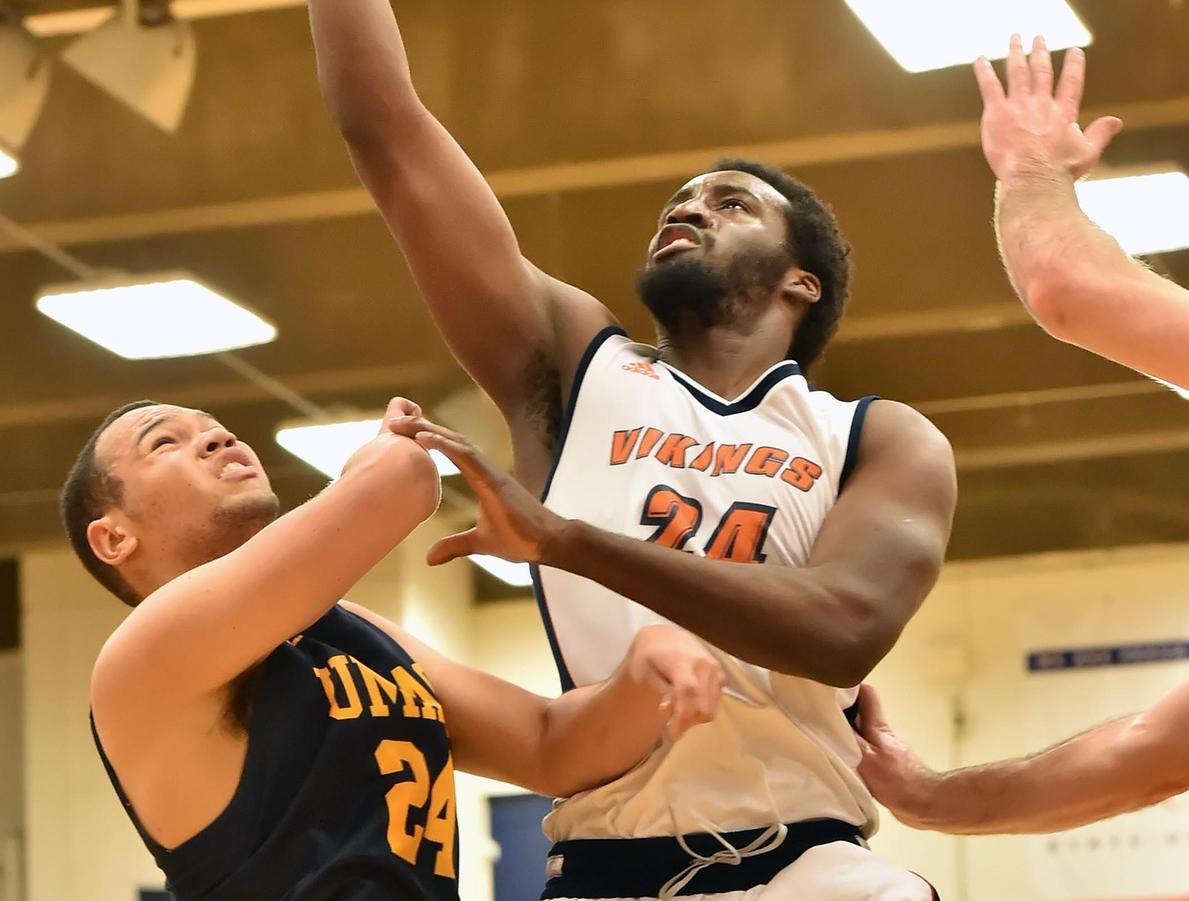 Fitchburg, Mass.– The Fitchburg State University men's basketball team downed the visiting Vikings of Salem State University 79-61 in a Massachusetts State Athletic Collegiate Conference (MASCAC) match-up this afternoon at Parkinson gymnasium.
It was a first half of runs. Trailing 10-8 after five minutes of play the Falcons ignited for a 13-0 run, with five points from freshman Toskany Abreu (Salem, Mass.) and four points from senior Jordan Jones (Worcester, Mass.) to lead 21-10. Seven straight points from senior Hakeem Animashaun (Dedham, Mass.) in a ten point streak for the Vikings make it 21-20 with 7:03 to play. Once again the Green and Gold responded with 10-0 run capped by an Abreau trey to take a 31-22 advantage. Fitchburg closed out the half with two hoops from first years Keegan Sharp (Townsend, Mass.) and Trevian Hinson (Tampa, Fla) to carry a 39-24 lead at intermission.
In the second half the Falcons extended the lead (53-35) on a three pointer from Abreau, but the Vikings battled back with buckets from sophomore Chris MacDonald (Wakefield, Mass.) and Animashaun to cut the deficit to 55-41. The hosts took the largest lead of the afternoon (75-52) with a layup from sophomore Tayjaun McKenzie (Lynn, Mass.), and secured the win with a basket from sophomore Eian Gannon (Clinton, Mass.).
Fitchburg State (7-7), 1-0) was led by Sharp with a team-leading 16 points and 9 boards, while Xavier Betancourt (Tampa, Fla.) added 12 points and 3 rebounds. Both Abreau and Hinson contributed 11 points off the bench. The Vikings (1-12, 0-1) were paced by Animashaun's game-high 22 points and 10 rebounds for the games only double-double, while MacDonald finished with 13 points.
Fitchburg State went 32-for-77 (41.6%) overall and (7-for-27) 25.9% from three point range. Salem shot 24-for-55 (43.6%) from the field and (5-of-18) 27.8% from beyond the arc. The Falcons held a 54-40 edge on the glass.
(Courtesy Fitchburg State Sports Information)