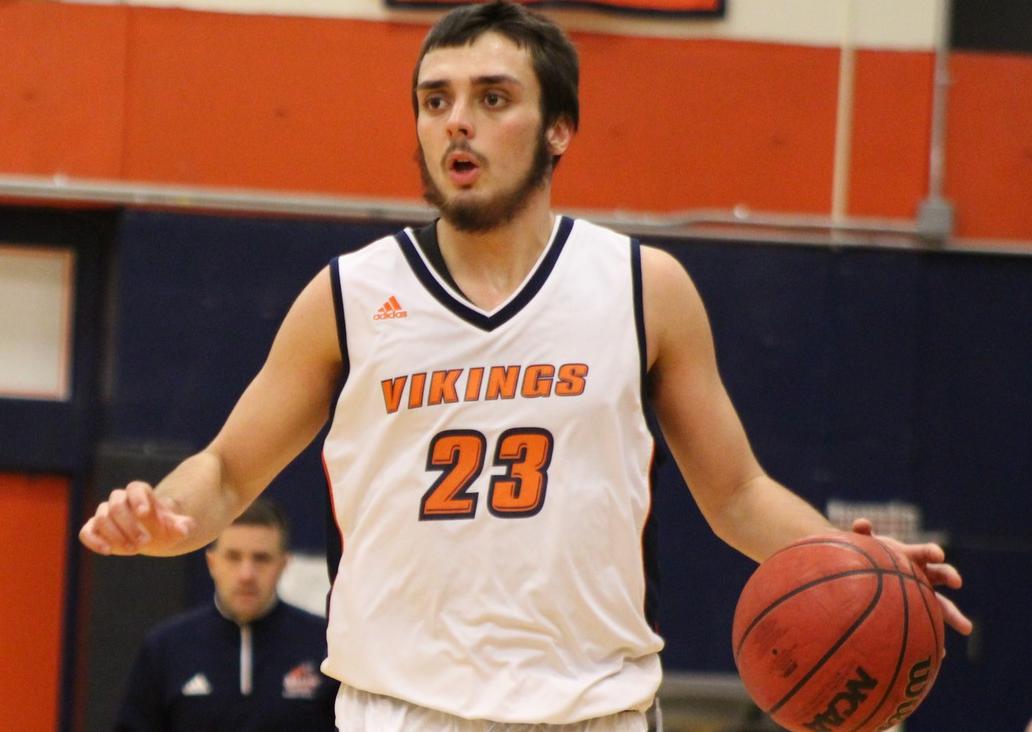 SALEM, Mass. - Sean Bryan (Lowell, Mass.) poured in 32 points, with 10 rebounds and four steals as #1 seed Salem State defeated #4 Bridgewater State 93-80 in the semifinals of the Massachusetts State Collegiate Athletic Conference (MASCAC) Men's Basketball Tournament. The Vikings (17-9) advance to the MASCAC Championship, which will be played at 1:00 PM on Saturday, February 23 at Twohig Gymnasium.
The teams battled evenly over the first nine minutes until Bryan drained a three to give the Vikings a six-point lead, 19-13 at the 11:01 mark, forcing Bridgewater State (9-18) to call a timeout.
Salem State continued to build on their lead in the closing minutes of the half. Admar Jaramillo (Brockton, Mass.) went up for a layup and after his shot was rejected by Fern Bernard (Malden, Mass.), Temi Bailey (West Springfield, Mass.) found Hakeem Animashaun (Dedham, Mass.) in transition to make the score 32-21 with 5:40 left.
The Vikings entered the halftime with a 44-33 advantage. Salem State shot 47.4% (FG 18-38) from the field while Bridgewater State was 42.4% (FG 14-33) from the floor. The Vikings managed 26 points in the paint with the help of Animashaun and Bailey.
Salem State had three players in double-figures. Bailey and Animashaun each had 11 points and Bryan scored 10 points. For the Bears, Ryan Carney (Easton, Mass.) scored 11 points (FG 4-8, 3PT 3-4) and Rayshon Ward (Fayetteville, N.C.) added nine points and seven rebounds.
Early in the second half, Bridgewater State countered with an 11-4 run, trimming the deficit to four, 48-44 as Ward hit a three at the 17:08 mark.
Later, Ward missed a three-point attempt, but Dimitri St. Louis (Brockton, Mass.) recovered the rebound and made the putback to tie the game at 55 with 14:02 left in the second half as the Bears erased the 11-point halftime deficit.
In response, Bryan exploded with his own 10-0 run, nailing back-to-back threes while converting twice in the post as Salem State built the lead back to double-digits.
The Vikings continued to surge, as Alex De La Rosa (Boston, Mass.) pulled up for three over Nick Crocker (East Falmouth, Mass.), giving Salem State an 81-70 lead with 3:40 remaining. The basket started the Vikings on a 13-3 run as they cruised to a 93-80 victory.
The Vikings' Animashaun added a double-double of 18 points (FG 8-11) and 12 rebounds while Bailey scored 15 points (FG 6-13, 3PT 1-1).
For Bridgewater State, Carney notched 27 points (FG 9-15, 3PT 6-9) and Ward hit for 24 points (FG 11-21, 3PT 2-3) and nine rebounds.