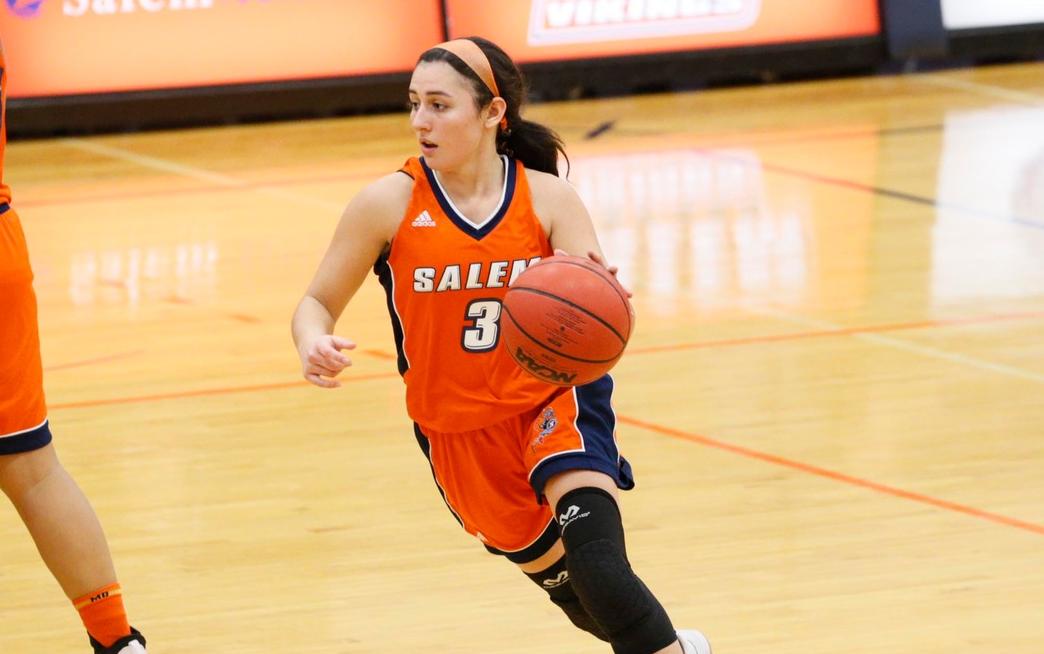 BRIDGEWATER, Mass. – Sophomore guard Hannah Dziadyk (Wakefield, Mass.) tallied 20 points and a career-high nine rebounds in 25 minutes off the bench to lead fourth-seeded Bridgewater State University to an 81-61 victory over #5 Salem State University in the quarterfinal round of the 2020 Massachusetts State Collegiate Athletic Conference (MASCAC) Men's Basketball Tournament on Tuesday night at the Tinsley Center.
With the win, Bridgewater State advances to the MASCAC Tournament semifinal round. The Bears (11-15) will travel to Framingham State University on Thursday night to take on the top-seeded Rams at six. Salem State ends the season with an overall record of 6-19.
Dziadyk knocked down 6 of 10 three-pointers and three of her game-best nine boards came off the offensive glass. She also registered three assists and a steal.
Junior center Destiny Fitzgerald (Medford, Mass.) added 16 points, eight rebounds (three offensive) and two blocked shots for the Bears, while senior guard Nicole Bostick (East Taunton, Mass.) notched 14 points, four caroms and three assists. Sophomore guard Olivia Dziadyk (Wakefield, Mass.) checked in with ten points, three rebounds and a game-best seven assists.
Senior guard Courtney Paschal (Waltham, Mass.) paced Salem State with a game-high 23 points to go along with five rebounds and two steals. Freshman forward Liz Zaiter (Peabody, Mass.) and sophomore forward Nicole Freddo (Marblehead, Mass.) added ten points apiece for the Vikings. Zaiter also pulled down a team-best eight rebounds (four offensive).
The Bears tallied the first 11 points of the contest as they held the Vikings scoreless for over 5 ½ minutes. Bostick and Fitzgerald notched four points apiece during the run while Hannah Dziadyk knocked down a three-pointer. Bridgewater led 22-10 after one and got up by as many as 15 points (25-10) early in the second quarter following a Bostick trifecta. Salem used a 9-2 run to close out the period to turn a 14-point deficit (29-15) into a 31-24 game at the break.
Bostick scored 12 points in the first half to lead all players, while Freddo tallied eight points in nine minutes off the bench for Salem State. The Bears shot 39% (12-31) over the first two quarters including 3-for-14 (21%) from behind the arc. The Vikings connected on just 28% (9-32) of their first-half field goal attempts and went 1-for-10 (10%) from three-point range.
Salem pulled to within five (40-35) with 5:13 remaining in the third quarter following a traditional three-point play by junior forward Katie Wallace (Peabody, Mass.). The Bears, however, put the game out of reach with a 19-1 run highlighted by a trio of Hannah Dziadyk three-pointers. All told, Dziadyk scored 12 points on four three-pointers during the surge.
Bridgewater maintained at least an 18-point advantage the rest of the way and got up by as many as 26 points (71-45) in the final period.
The Bears converted 7 of 12 (58%) three-point field goals in the second half with Dziadyk going 5-for-5 from behind the arc. Bridgewater shot 49% (29-59) from the floor for the game and finished 13-for-18 (72%) at the free throw line.
Salem shot just 31% (22-72) on the evening. The Vikings went 6-for-22 (27%) from three-point range and 11-for-17 (65%) at the charity stripe.
(Courtesy Bridgewater State Sports Information)