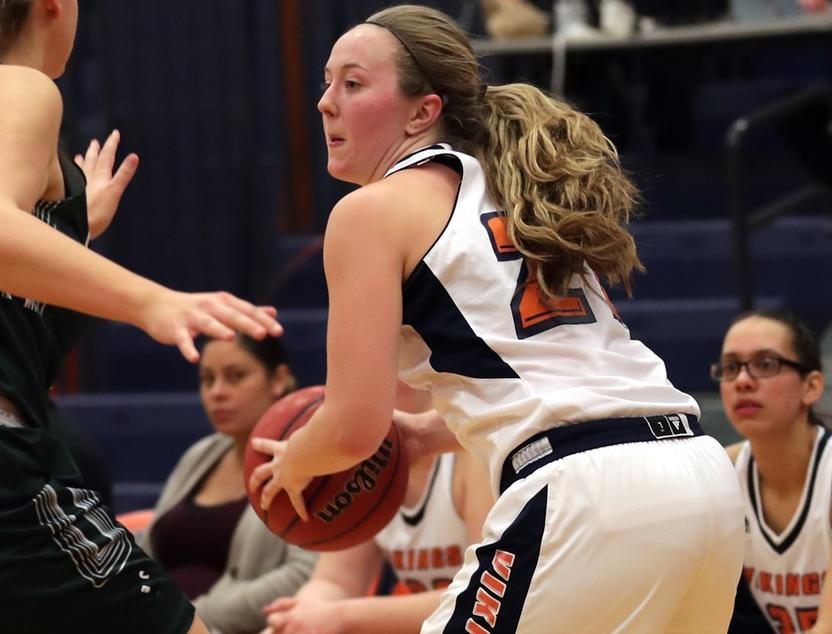 CHICOPEE, Mass. - Courtney Paschal (Waltham, Mass.) poured in 25 points on 8-13 (.615%) shooting and Mia Crawley (Hyannis, Mass.) added 10 points as Salem State opened their 2019-20 campaign with a 61-56 victory over Elms College on Saturday afternoon at Picknelly Arena.
The two teams exited the first quarter tied at 16-apiece. Trailing 27-26 in the second, Salem State closed the half with five straight points, including a three-pointer from Tatianna Iacoviello (Revere, Mass.) and a jumper from Paschal that gave the Vikings a four-point advantage 31-27 at the break.
The two teams battled through the third with Crawley scoring six points in the quarter as Salem State held a 45-39 advantage heading into the fourth. The Vikings held off a comeback bid by the Blazers in the final period, who shot 7-16 (43.8%) from the floor and managed to take a 54-53 lead with 3:40 remaining following a three-pointer by remaining Shannon Cullen (Brookfield, Conn.). However, Salem State limited Elms to just one basket the rest of the way as Paschal scored six of Salem State's final eight points to help the Vikings pull out a five-point victory.
Liz Zaiter (Peeabody, Mass.) had nine points and a game-high 11 boards while Iacoviello dished out seven assists to go with five rebounds. Salem State ended the game 20-64 (31.3%) from the field.
McKenzie Huria (Terryville, Conn.) led the Blazers with 13 points while Jalin Waters (Waterbury, Conn.) chipped in with nine points. Elms shot 20-54 (37.0%) from the floor including 9-20 (45.0%) from three-point range. The Blazers took only two free throws, finishing 1-2 (50.0%) from the line.