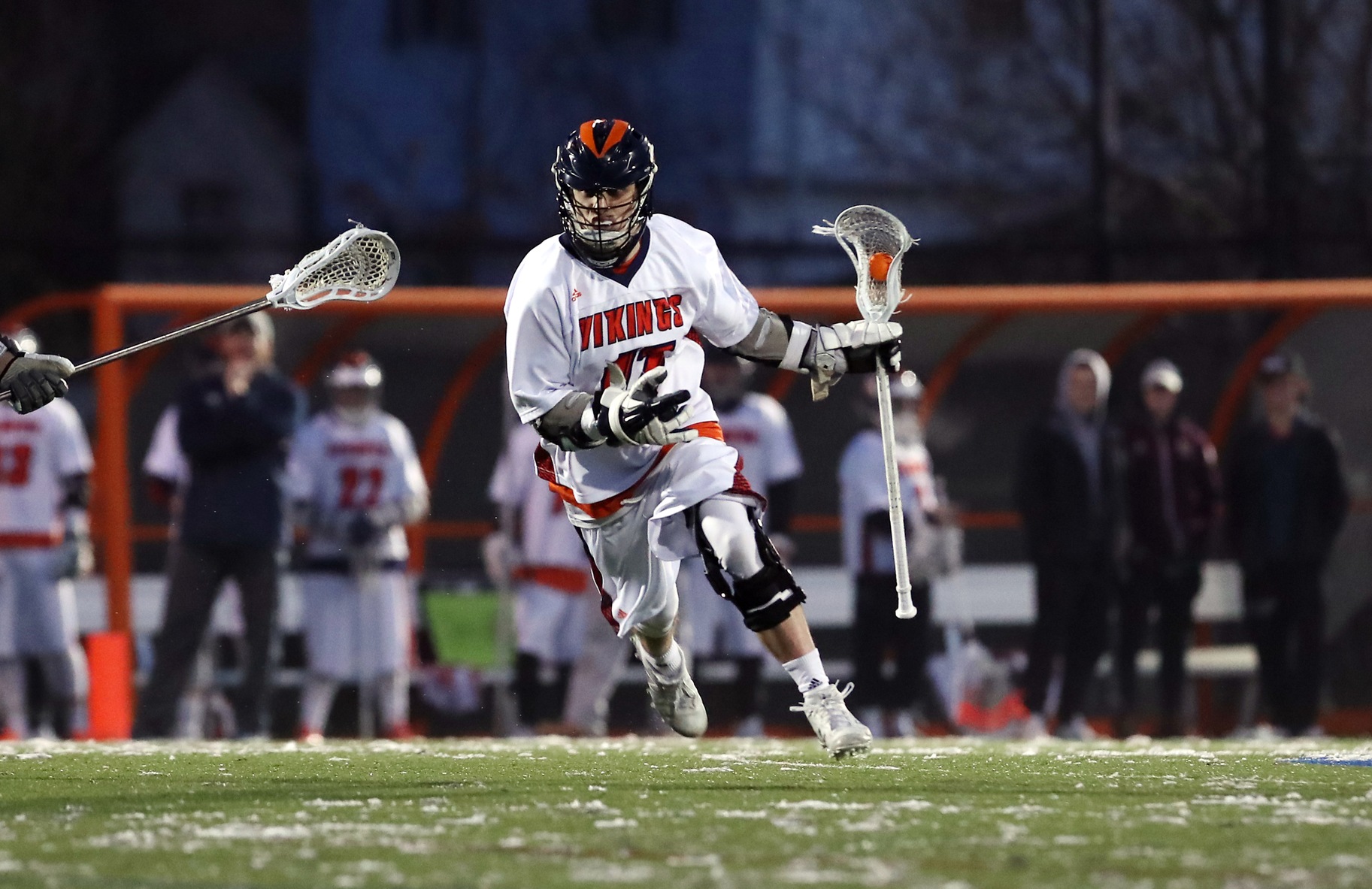 PLYMOUTH, N.H. – Sophomore Connor Delea (Manchester, N.H.) notched five goals for the fifth straight game to lead Plymouth State University to a 14-5 win over Salem State University in a Little East Conference (LEC) men's lacrosse game at Kennedy Field at the New Hampton School on Friday night.
PSU controlled the opening quarter, building a 7-0 lead before the Vikings got on the board with a late tally. The Panthers pushed the advantage to 9-1 in the second quarter and held a 10-2 lead at the half and Salem was unable to chip into the deficit over the final 30 minutes.
Plymouth State remains unbeaten in the Little East, moving to 4-5 overall and 3-0 in league play, while the Vikings drop to 3-8 and 1-4 in LEC contests.
Senior Paul Luongo (Northborough, Mass.) opened the scoring with his 16th goal of the year in the opening five minutes and classmate Chris Waterbury(Clinton, Conn.) made it 2-0 two minutes later.
Sophomore Fernand Barry (Hull, Mass.) recorded his first of the season and classmate Chase Mercier (Boscawen, N.H.) and junior Trevor Gagnon(Pelham, N.H.) added goals as the Panthers pushed the lead to 5-0.
Delea scored twice in a 55-second span to make it 7-0, but Salem State junior Tyler Billouin (Bedford, Mass.) scored with 1:26 left in the quarter.
Plymouth pushed the lead to 9-1 as Delea completed the hat trick and Luongo scored his second in the final five minutes of the half.
Freshman Tyler Morris (Billerica, Mass.) pulled the Vikings to within 9-2 with 2:29 left in the half, but Waterbury found the back of the cage just before time expired to give PSU a 10-2 lead at the break.
Senior Casey Elkins (Stow, Mass.) scored twice and Delea added his fourth of the game as PSU extended the lead to 13-4 in the third quarter.
Delea made it five straight games of five or more goals four minutes into the final stanza, before Salem State freshman Drew Worthley (Saugus, Mass.) accounted for the final score with his third goal of the year in the final two minutes.
(Courtesy Plumouth State Sports Information)