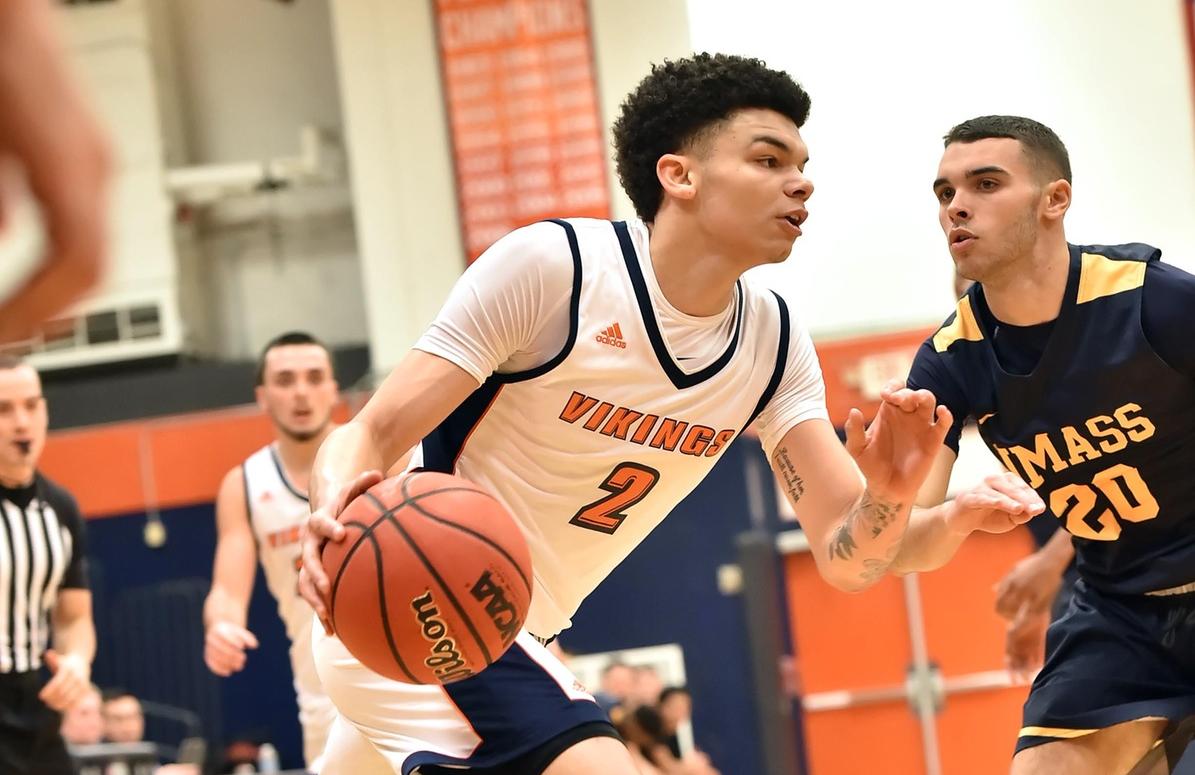 Salem, Mass. – Eric Demers (Acushnet, Mass.) poured in 41 points as Gordon pulled away for a 95-78 victory over Salem State on Tuesday evening at Twohig Gymnasium. The Fighting Scots go to 3-2 on the season while the Vikings slide to 1-5.
Both teams found their offense early as the Vikings' Evan Mason (Gloucester, Mass.) and Gordon's Demers opened the game 3-for-3 from the field as Salem State forged an 11-10 lead.
The Vikings held their own against the Fighting Scots. A Hakeem Animashaun (Dedham, Mass.) layup kept the Vikings in front, 14-13 with 12:17 remaining in the first. However, Gordon continued to shoot well from behind the arc, as three's by Avelino Damoura (Dorchester, Mass.) and Benjamin North (Barkhamstead, Conn.) highlighted a 14-5 run by the Fighting Scots, who pushed out to a 28-18 lead midway through the first.
Despite shooing 13-29 (44.8%) from the field, Salem State went 1-8 (12.5%) from three point range, allowing Gordon to keep a double-digit lead, 36-25 with 5:18 left in the first.
The Vikings stayed within striking distance as Animashaun, 11 first half points, did most of his damage in the post, helping the Vikings to a 22-12 edge in points in the paint. Fern Berard (Malden, Mass.) also provided a spark off the bench with seven points, and his free throw cut the deficit to 47-41 at the half.
Demers led all scorers with 20 first half points on 8-13 (61.5%) shooting.
Chis MacDonald (Wakefield, Mass.) nailed a three to start the second. Following, a bucket by Animashaum, MacDonald regained the lead for Salem State, 48-47 with a layup and made free throw as the Vikings stormed out on a 9-2 run to open the second half.
However, Demers kept the pressure on Salem State as he converted his fifth three-pointer, giving the Fighting Scots a three-point advantage, 57-54 at the 13:39 mark. Back-to-back baskets by Parker Omslaer (Jackson, N.J) pushed the lead to 10, 67-57 for the Fighting Scots with 11:16 left.
Gordon kept shooting at a 50% clip (11-22) and began to pull away. Demers hit his fourth trey of the half to extend the lead to 84-60 with 7:57 left.
Six straight points by Animashaun managed to draw the Vikings to within 15, 85-70, but the Fighting Scots countered with a 6-0 spurt to end any threat and coast to a 95-78 victory.
Demers added 21 points after halftime, finishing 13-23 from the floor, including 8-15 from behind the arc for Gordon. Omslaer ended with 14 points and seven rebounds while Aljernod Terry (Orlando, Fla.) contributed seven points and 13 rebounds.