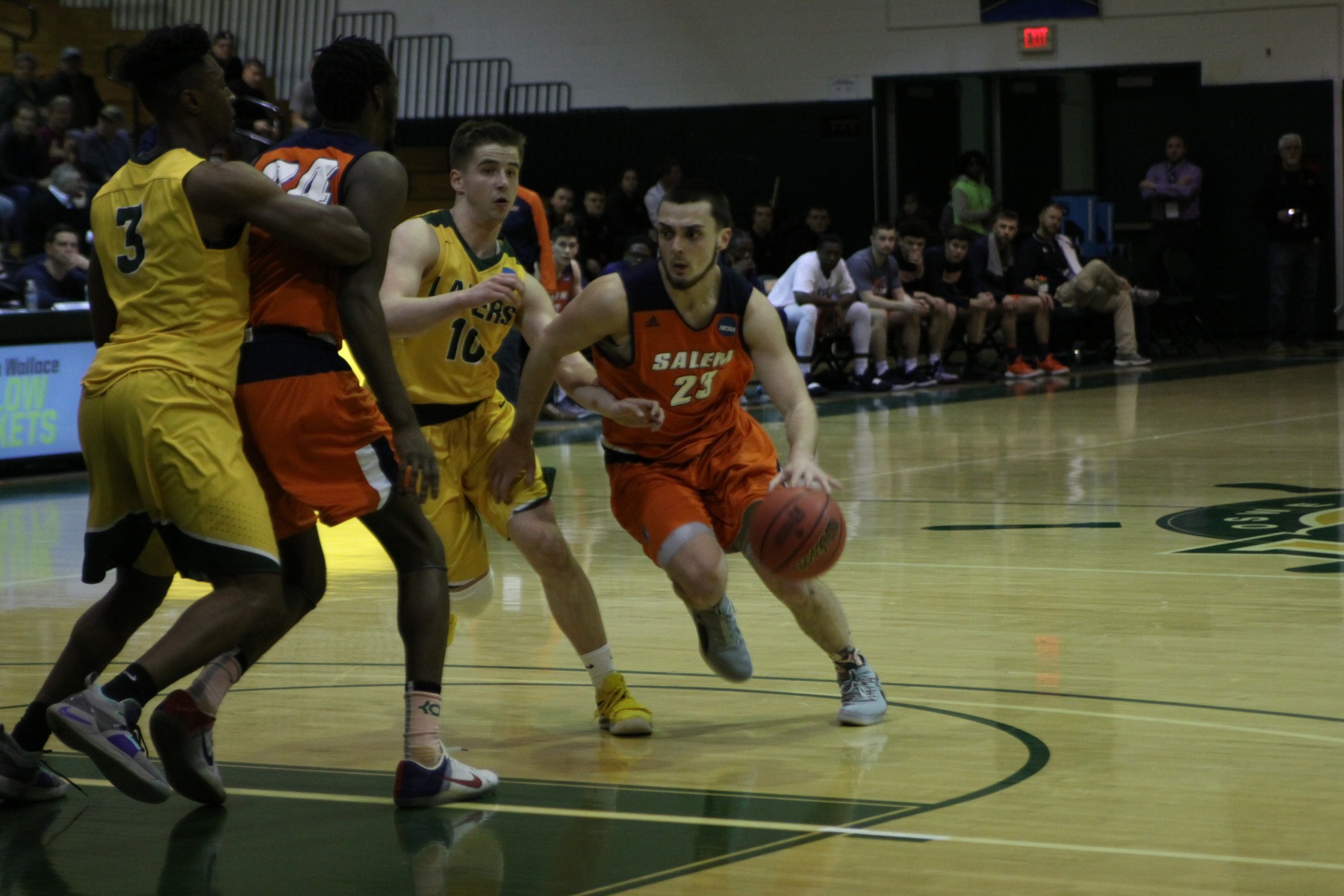 Oswego, N.Y. – Sean Bryan paced Salem State with 21 points, 10 rebounds and eight assists, but the Vikings fell 72-59 to host Oswego State in the opening round of the 2019 NCAA DIII Men's Basketball Tournament. Salem State concludes their season with a record of 18-10. The Lakers move on and will meet Baldwin Wallace in the second round of the tournament tomorrow.
The Vikings built an early 10-5 lead following a jump shot by Bryan. However, an 11-5 run by Oswego State put the Lakers on top 16-15 with 7:58 remaining in the first. Both teams struggled to get going on offense, and a bucket by Hakeem Animashaun gave Salem State a slim 21-20 advantage with 4:10 left. Two Joe Sullivan free throws put Oswego up 28-25 in the final minute as Salem State connected on just 11-30 (36.7%) of their first half shots. Bryan led all scorers with 14 first half points. The Lakers, who picked up their offense in the final 10 minutes of the half, shot 12-26 (52.2%) from the floor as the home team exited with a 28-26 halftime lead. Quinn Carey led Oswego with eight points.
A Bryan three-pointer helped erase a six-point second half deficit, tying the game at 33-all at the 15:26 mark. Five straight points from Bryan Martinez put Salem State back on top 38-33, but the Lakers countered with a 9-3 spurt and regained the lead 42-41 following a Tyler Pierre free throw. Trailing 52-45, the Vikings fought back and after a Bryan free throw, were behind 52-48 with just over five minutes remaining. However, Salem State, which struggled from behind the arc, came up empty on three consecutive possessions as the lead ballooned to 58-48 with four minutes remaining.
The Vikings, who converted just one field goal attempt over a two and half minute span, allowed Oswego State to take command and build a 63-50 lead with 1:49 left. Eight free throws by the Lakers iced the game in the final minute as they went on to win 72-59.
Salem State finished the game 23-64 (25.9%) from the field and just 3-20 (15%) from behind the arc. Animashaun had 14 points and six rebounds, while Martinez contributed 13 points on 6-9 (66.6%) shooting.
Despite fouling out with 5:17 remaining in the contest, Pierre paced Oswego with a double-double scoring a team-high 19 points coupled with a game-best 11 rebounds.
Joining Pierre in double-figures were Quinn Carey (17), Joe Sullivan (11) and Liam Sanborn (10).
Carey knocked down four of his 3-point attempts for a better than 40-percent night from that distance while collecting six rebounds.
The Lakers ended the game 23-52 (44.2%) from the field.